wicca
2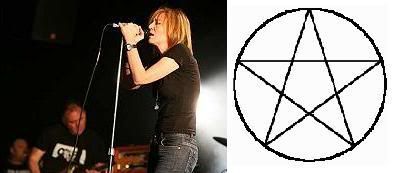 At this moment, there are 2 big questions about new Portishead's album:
1.- ¿What's the meaning of that portuguese intro in Silence?
2.- The cut at the end of Silence, it was on purpose or just a bad rip?
Thanks to an appropriate and big tip of vemeko, the first one is answered.
Probably you know about it or perhaps it's too obvious, but at least I didn't know it. This mistery was found in a comment @ songmeanings.net and makes sense with the initial title of the song: Wicca.
With a little help of google/wikipedia, we've found that this intro is a reference of the so-called Rule Of Three of this religion, its meaning is simple "whatever energy a person puts out into the world, be it positive or negative, will be returned to that person three times"
This is one interpretation of the portuguese intro:

"Ever mind the Rule of Three,
Three times what thou givest returns to thee,
This lesson well, thou must learn,
Thee only gets what thou dost earn."
Interesting isn't? Well, now you can research about this subject, build up theories, say that there's a relation with TV series Lost or whatever… and by the way, NO, we don't know if the end of Silence is on purpose or just a bad rip
Mp3 at bottom.
En este momento hay 2 grandes interrogantes que uno se está haciendo respecto al nuevo disco de Portishead:
1.- ¿Qué quiere decir la intro en portugués de Silence?
2.- ¿El corte al final de Silence es a propósito o sólo un mal rip?
Gracias a un oportuno y gran tip de vemeko, la primera ha sido respondida.
Posiblemente ya lo sabías o era muy obvio descubrirlo, pero al menos yo no estaba al tanto. El "misterio" fue encontrado en un comentario sobre la canción en songmeanings.net en el cual se hace referencia al nombre inicial que esta tenía: Wicca.
Con ayuda de google/wikipedia encontramos que la intro se relaciona con la llamada Ley de Tres de esta religión cuya interpretación no es más que "Todo lo que hacemos, bueno o malo, volverá a nosotros multiplicado por tres."
Una forma de interpretar el texto podría ser esta:

"Ten en cuenta la Ley de Tres.
Todo lo que haces volverá a ti tres veces.
Esta lección debes aprenderla.
Sólo recibes lo que mereces."
Interesante. no?, ya con esto ustedes pueden seguir buscando más información si lo desean y crear sus teorías o decir que tiene relación con Lost… y por cierto, NO, todavía no sabemos si el corte al final fue a propósito o sólo un mal rip
MP3s:
Portishead – Silence
[tags]portishead, wicca, third, silence[/tags]
7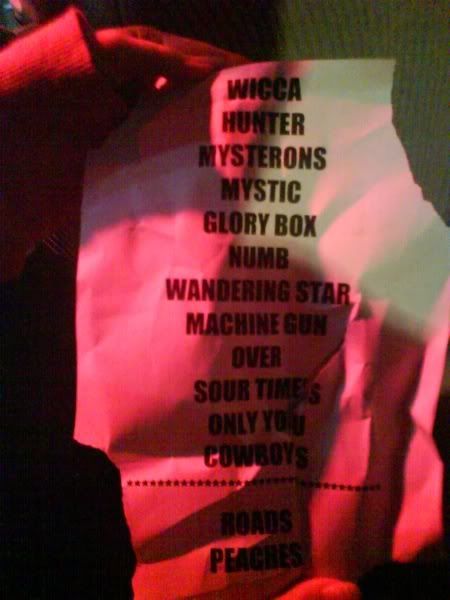 English Version:
UPDATE UPDATE: FORGET  THIS POST. NOW GO RIGHT HERE TO GET THE WHOLE CONCERT.
Here you got the 5 new songs from the Portishead's performance @ ATP 07, and yep these songs have names (no more #1, #2, #3)
Above you got the setlist from one of those shows and the new songs are: Machine Gun, Mystic, Hunter, Wicca & Peaches.
As usual, these MP3s are rips from the videos you can see at youtube.
This is a great day
MP3s:
Portishead – Wicca (Live @ ATP07)
Portishead – Hunter (Live @ ATP07)
Portishead – Mystic (Live @ ATP07)
Portishead – Machine Gun (Live @ ATP07)
Portishead – Peaches (Live @ ATP07)
setlist via last.fm

Versión en español:
UPDATE UPDATE: OLVIDENSE DE ESTE POST, AHORA EN ESTE LINK PUEDEN DESCARGAR EL CONCIERTO COMPLETO. 
Aquí tienen las 5 nuevas canciones que Portishead interpretó en el ATP 2007, y sip, estas canciones TIENEN nombre (no más #1, #2, #3)
También pueden ver el setlist de uno de los show, y las canciones nuevas son: Machine Gun, Mystic, Hunter, Wicca & Peaches.
Como siempre, los MP3s que se colocan son rips de los videos de youtube, lo mejor que se puede tener hasta el momento.
Es un gran día (creo que ya se lo que se sentirá cuando salga Chinese Democracy….. LOL
)
MP3s:
Portishead – Wicca (Live @ ATP07)
Portishead – Hunter (Live @ ATP07)
Portishead – Mystic (Live @ ATP07)
Portishead – Machine Gun (Live @ ATP07)
Portishead – Peaches (Live @ ATP07)
[tags]portishead, atp, wicca, hunter, mystic, machine gun, peaches[/tags]