theremin
0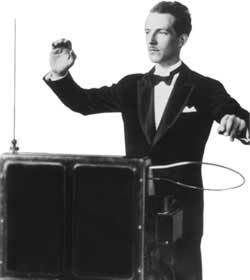 English Version:
The first post on the new section features a couple of songs played on Theremin.
Isn't this instrument amazing? Just moving the hands to control frequency and volume without touching it.
There are variations of this instrument and one of them is called Matryomin, in few words it's a theremin in a Matrioshka doll, in the next video Moon River is interpreted on one of those things. Amazing!!!
I was looking for reggaeton songs on Theremin…. but I failed

For that reason here there are a lot of songs on theremin from youtube videos.
MP3:
Jackson 5 – Ben (youtube)
Gnarls Barkley – Crazy (youtube)
Bobby McFerrin – Don't Worry, Be Happy (youtube)
The Beatles – Hey Jude (youtube)
Yann Tiersen – La Valse D'Amelie (youtube)
Henry Mancini – Moon River (youtube)
Judy Garland – Somewhere Over the Rainbow (youtube)
Buggles – Video Killed the Radio Star (youtube)
[youtube]Law-oXfQIpc[/youtube]

Versión En Español:
El primer post en esta nueva sección incluye varias canciones interpretadas con un Theremín.
¿No les parece increible este instrumento? Sólo hay que mover las manos sobre las antenas para controlar la frecuencia y el volumen.. todo esto sin tocar el aparato.
Hay variaciones de este instrumento y una de las que me llamó la atención es el llamado Matryomin, en pocas palabras es un theremín dentro de una de estas muñecas rusas Matrioshka, en el video que acompaña el post pueden ver la interpretación de Moon River con este instrumento. Increible!!!
Estaba buscando canciones de reggaeton en Theremín… pero fallé

Sin embargo a continuación una variedad de canciones (encontradas en youtube, al lado de cada canción se encuentra el link correspondiente al video)
MP3:
Jackson 5 – Ben (youtube)
Gnarls Barkley – Crazy (youtube)
Bobby McFerrin – Don't Worry, Be Happy (youtube)
The Beatles – Hey Jude (youtube)
Yann Tiersen – La Valse D'Amelie (youtube)
Henry Mancini – Moon River (youtube)
Judy Garland – Somewhere Over the Rainbow (youtube)
Buggles – Video Killed the Radio Star (youtube)
[tags]theremin, covers, coverpedie, matryomin[/tags]