sufjan stevens
6
Español:
Este 2006, no he encontrado todavía la película que me haya dejado woooow, si bien hay interesantes estrenos (Babel, The Departed, etc) no me han dejado con esa sensación de cortarme las venas, posiblemente Volver ocupe ese lugar.
Esperemos que este Diciembre (el mes de estrenos de películas que buscan el Oscar) salgan otras propuestas. Sin embargo he aquí lo nuevo que he visto últimamente y deben tomar en cuenta, ya sea en el cine o torrent:
Little Miss Sunshine:
Por el momento esta es la gran película independiente del 2006 que tiene a la crítica y taquilla de su lado. Posiblemente se vea un efecto "Sideways" pero esperemos si sale favorecida o no en las nominaciones.
Este es el primer trabajo de los directores Jonathan Dayton y Valerie Faris, las mentes detrás de los videos musicales de Smashing Pumpkins (1979, Tonight Tonight), Red Hot Chili Peppers (Californication, Otherside, By The Way), entre otros.
Little Miss Sunshine sigue los pasos de The Royal Tenenbaums en permitirnos entrar en la historia de una familia "disfuncional" en su viaje en carretera a California para que su hija llegue a un concurso de belleza, ya de ahí se presentan diversas situaciones inverosímiles, entre risas y tristezas que permite descubrir la complejidad de los personajes (el tío gay suicida, el adolescente rebelde mudo por convicción, el abuelo adicto a la heroína, el padre con temor a la derrota y la madre que intenta apaciguar a todos).
Una propuesta bien fresca (el como se suben a la van es un trademark de la película, sin intentar dar spoilers solo digo que se relaciona con el poster) y para ser independiente me impresionó todas las críticas y el boca a boca que ha generado, sin embargo creo que queda corta en la trama dejando ciertos cabos en el aire en lo que respecta a lo poco que ahonda en la historia de los personajes y la facilidad en darle un punto final al mismo.
Mención especial, la banda sonora, compuesta en su mayoría por una banda indie llamada DeVotchKa (multi-instrumental que fusiona bolero, mariachis, música griega y rumana), ya había leído que era bueno el soundtrack pero veo que la subestimé al llegar al punto de leer en la wikipedia que se ha convertido en una de los scores musicales más celebrados del año. A su vez lo que me atrapó de una fue el reconocer las notas de "Chicago" de Sufjan Stevens y en los créditos a No Man's Land de su álbum The Avalanche (una de las mejores canciones para mí de este año).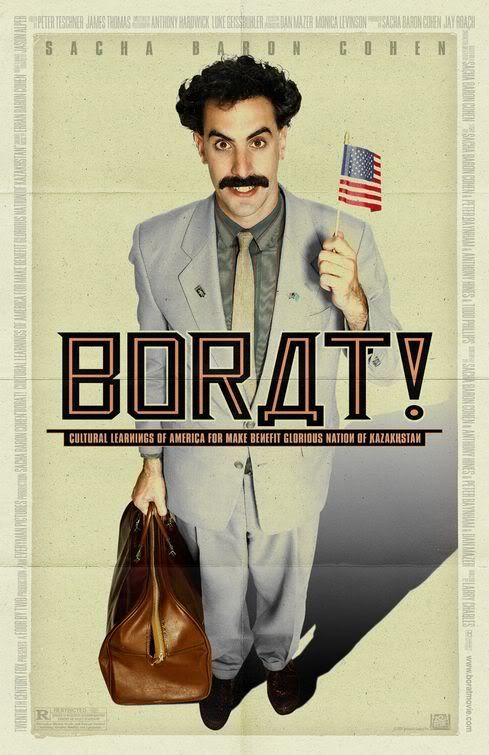 Borat:
Ok, ya tanto se ha hablado de ella que había que verla….. en breves palabras, esta película te cachetea, tu te dejas y no te disgusta, te ríes, gritas por DIOOS, te dices por qué diablos los gringos gustan de estas películas?… y a la final esperas que hagan una segunda parte.
Lo ridículo y extravagante de las situaciones mostradas por Borat lo justifican, desde las "tradiciones" de Kazakhstan hasta la gráfica pelea posición 69 (no digo más!!!)
No he escuchado la banda sonora, pero nuevamente me atrapó el reconocer el Siki Siki Baba de Kocani Orkestar, interpretada miles de veces en vivo por Beirut (incansablemente comentado este año en el blog y de lo mejor del 2006)
Babel:
La he estado esperando con ansiedad, hasta que por fin la vi. En pocas palabras es una Amores Perros filmada en 3 países.
Eso mismo, al igual que Shortcuts, Magnolia, Amores Perros y Crash, vemos distintas historias de personajes que se entrelazan, una más triste que la otra y sin esperanza alguna y todo comienza con un disparo en Morroco para terminar con la historia de una sordo muda japonesa.
De lo mejor que se ha presentado este año aunque puedo notar que ya la fórmula puede estar llegando a un desgaste…. Y lo dice alguien que mata por este tipo de películas que en general no hay mensaje sino ver la desgracia de los demás.
Nuevamente mención especial a la música, si estás acostumbrado al trabajo de Alejandro Gonzalez Iñarritú podrás anticipar que verás escenas de paisajes con música instrumental al mejor estilo de "Exit Music" y "Subterranean Homesick Alien" de Radiohead y para rematar el final de la película IGUAZU de Gustavo Santaolalla, así es que se cierra una película caraj.
Otras que vi que son viejas: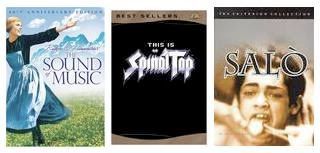 Saló o los 120 días de Sodoma: …… quiero olvidarme de todas esas escenas, Dios cuanto sadismo, y no me hablen de filosofía ni crítica al fascismo… para no decir lo que otros han expuesto lean el por que la controversia de esta película en el blog Iconeando.
The Sound of Music: Con la pena ajena característica al verla esto es un clásico, gracias a Dios la vi luego de Saló para así retomar la fe en el mundo… mi ignorancia sobre esta película llegó al punto de decir…coooj, Julie Andrews canta la misma canción de Nicole Kidman en Moulin Rouge. (refiriéndome a The Hills Are Alive)
This Is Spinal Tap: Otro clásico, esta película es un Almost Famous pero versión comedia-documental de una banda de rock británica (salvando diferencias no?), sabían que hay personas que todavía creen que Spinal Tap es un grupo de verdad????
En espera a ver: The Prestige (cine de Nolan), Casino Royale (todos se están metiendo la lengua al reconocer que es la mejor de la serie de James Bond), The Fountain (cine de Aronofsky), The Queen y Apocalypto (hay vida más allá de Braveheart?)
Slds,
Yiyo
——————————–
English:
In this 2006, I haven't found the movie that makes me wet my pants, there're interesting premieres (Babel, The Departed, etc) but I don't get that feeling of "awesome movie", maybe "Volver" has this title (so far)
I'm hoping this December (the month of the Oscar movies) to see the movie I'm waiting for. Nevertheless, here's the last I watched:
Little Miss Sunshine:
At this moment this is THE INDEPENDENT FILM of 2006, it has the critics and the box-office by its side. Probably we'll see a "Sideways" effect this time but we have to wait the nominations.
This is the first work from Jonathan Dayton and Valerie Faris, the directors behind the music videos of Smashing Pumpkins (1979, Tonight Tonight), Red Hot Chili Peppers (Californication, Otherside, By The Way), among others.
Little Miss Sunshine follows the steps of The Royal Tenenbaums letting us enter to the story of a "dysfunctional" family in its road trip to California in order to go to the Little Miss Sunshine Beauty Contest, from this moment we'll see different situations, among laughs, sadness and yada yada you'll discover the complexity of the characters (a gay suicide uncle, a rebel teenager who doesn't want to speak, the heroin addict grandpa, a father who fears to be a looser, and the mother who tries to get the world straight).
This is a fresh film (the way they go inside the vehicle is the trademark of the whole movie, I don't want to spoil but it's related to the poster) and because it's an independent movie I was surprised for all the critics and the buzz this picture has made, but I think there's something loose in the screenplay, there're inconclusive aspects about the characters and there's not a deep development in their stories… wtf, you'll have a nice time.
Kudos to the soundtrack, composed by an indie band named DeVotchKa (multi-instrumentalist which fuses bolero, mariachis, greek and romanian music), I 've already read about the music but I underestimated it, at the wikipedia I've read that is "one of the most celebrated musical scores behind one of the year's most commercially and critically lauded films". At the same moment the thing that got me was to recognize the musical notes of "Chicago" by Sufjan Stevens and at the end of the credits No Man's Land from his album The Avalanche (one of the best songs this 2006 in my opinion).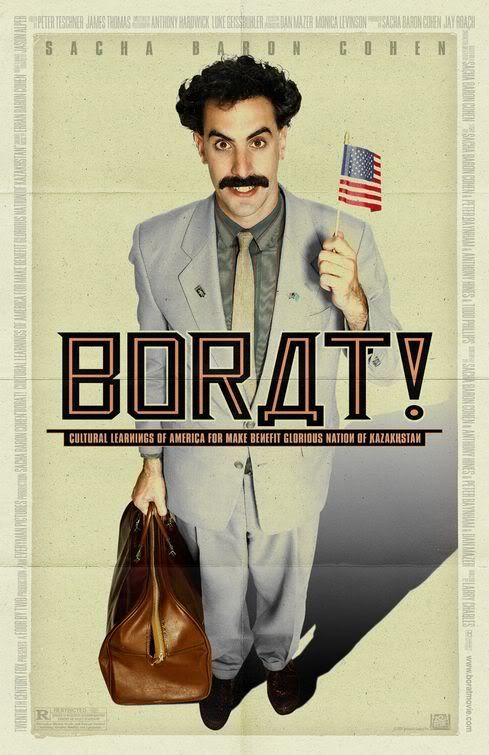 Borat:
Ok, everybody is talking about this film, I had to take a look at it….. in few words, this film slaps at you, made fun of you, you like it, you laugh, you say: wtf is this, and why do americans like this kind of movie?… but at the end you wait for a second part.
The ridiculous and extravagant of the situations showed by Borat justify all the buzz around it, from the "traditions" of Kazakhstan to the explicit "69 position" fight.
I haven't heard the soundtrack, but again I could recognize Siki Siki Baba by Kocani Orkestar, performed several times in concert by Beirut (commented over and over this year in the blog best of 2006)
Babel:
I've been waiting with anxiety Babel, 'til I watched it. In few words this is Amores Perros filmed in three countries.
That's right, just like Shortcuts, Magnolia, Amores Perros and Crash, there're several stories linked one of the other, one story is more sad and hopeless than the other and everything begins with a shot in Morocco to finish with a japanese deaf-mute.
This is one of the best of this year, but I can notice that the formula is going to an end…. and I'm a person who can kill for these kind of movies.
Kudos one more time for the music, if you have watched the work of Alejandro Gonzalez Iñarritú, you can anticipate scenes of close-ups with instrumental music at the best style of "Exit Music" and "Subterranean Homesick Alien" by Radiohead and in the end of the movie IGUAZU by Gustavo Santaolalla, that's the way a film has to finish.
Other movies: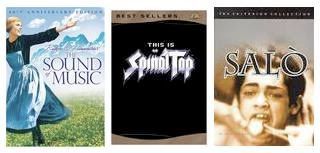 Salò o le 120 giornate di Sodoma: …… I want to forget those scenes, Oh my gosh that's sadism, and don't tell me about philosophy or critic to Fascism….. I don't want to say what other people have written, so you can go to the wikipedia and read about the controversy about the movie.
The Sound of Music: Yeap, this is a big classic, thank God I watched it after Saló so I couldn't commit suicide… my ignorance about this movie was at the level to say… cool, Julie Andrews sings the same song Nicole Kidman performed in Moulin Rouge. (The Hills Are Alive)
This Is Spinal Tap: Another classic, this film is an Almost Famous but comedy/documentary about a british rock band (saving differences), did you know there're people who still believe Spinal Tap is a real band?
Waiting for: The Prestige (Nolan), Casino Royale (I've read is the best of James Bond series), The Fountain (Aronofsky), The Queen y Apocalypto (is there a life after Braveheart?)
Cheers,
Yiyo