rem
1
R.E.M. playing their new single 'Supernatural Superserious' and a cover of Editors' Munich. For more information or hear the interview go to BBC website.
R.E.M. interpretando su nuevo single 'Supernatural Superserious' y un cover de Editors para la canción Munich. Para más información o escuchar la entrevista pueden ir al site de la BBC.
MP3s:
R.E.M. – Supernatural Superserious
R.E.M. – Munich (Editors cover)
[tags]REM, bbc, radio 1, live lounge[/tags]
21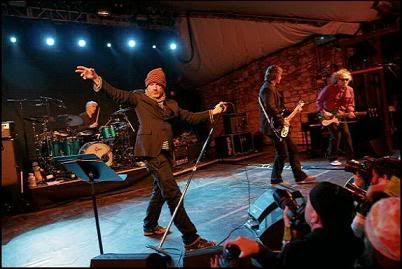 thanks afrael.
Setlist:
Living Well is the Best Revenge
Man Sized Wreath
Second Guessing
Drive
Hollow Man
Animal
Auctioneer
Mr. Richards
Fall On Me
Great Beyond
Houston
Electrolite
Accelerate
Until the Day is Done
Final Straw
Bad Day
Horse to Water
Walk Unafraid
MP3: Supernatural Superserious (Live @ SXSW 2008)
Imitation of Life
I'm Gonna DJ
Man on the Moon
Download whole concert in a RAR:
REM at SXSW 2008 @ Stubb's
[tags]npr, rem, sxsw, sxsw 2008[/tags]
4

Español:
Si hay una canción que jamás me canse de escuchar tiene que ser esta: California Dreamin' por The Mamas & The Papas
Fue escrita en 1963 por John y Michelle Phillips y fue inspirada por la nostalgia que tenía John sobre su ciudad (California) cuando estaba viviendo en el frío invierno de New York.
Esta canción fue el primer single de la banda y su gran hit. Se dice que gracias a ella fue que llegaron a ser la gran banda exitosa y de gran reconocimiento que fueron.
Más detalles en este interesante artículo en NPR.

English:
California Dreamin' by The Mamas & The Papas is a song I really really like.
It was written in 1963 by John and Michelle Phillips and was inspired by John's nostalgia about his city (California) when they were living in the cold winter of New York.
This song was the first single and big hit for the band. It's said that because of this song they earned all the big success they got.
More information in this interesting article at NPR.
Video:
[youtube]-wI6uAOHzvo[/youtube]
Download the Covers by (for sampling porpuses):
The Beach Boys
REM (live)
José Feliciano (live)
Michael Chapdelaine (Instrumental/guitar)
Guster
Hi-Standard
The Carpenters
[tags]Mamas & The Papas, California Dreamin', REM, Beach Boys, Jose Feliciano, Michael Chapdelaine, Guster, Hi-Standard, Carpenters[/tags]