owen pallett
5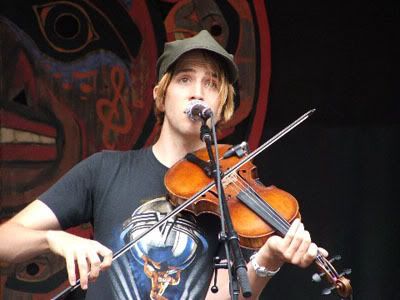 English Version:
Cover Me: One artist covering a lot of songs.
This time with Owen Pallett better known as Final Fantasy.
8 covers, well in fact he was co-writer of Beirut's Cliquot and Stars' Your Ex-lover is dead is like a "remix"… anyway, this is a good pack of covered songs specially Bloc Party's This Modern Love I like this version more than the original one.
MP3s:
Final Fantasy – An Actor's Revenge (Destroyer Cover)
Final Fantasy – Cliquot (Beirut Cover)
Final Fantasy – Fantasy (Mariah Carey Cover)
Final Fantasy – No Cars Go (The Arcade Fire Cover)
Final Fantasy – Paris 1919 (John Cale Cover)
Final Fantasy – Peach, Plum, Pear (Joanna Newsom Cover)
Final Fantasy – This Modern Love (Bloc Party Cover)
Final Fantasy – Your Ex-Lover Is Dead (Stars Cover)
Final Fantasy – The power Of Love (Celine Dion Cover) <– via Music Slut

Versión en Español:
Cover Me: Un artista haciendo covers de varias canciones.
Esta edición es con Owen Pallett mejor conocido como Final Fantasy.
8 covers aunque en realidad fue co-escritor de Cliquot de Beirut y el Your ex-lover is dead de Stars es como un "remix"… de todas formas es una buena selección de canciones, especialmente This Modern Love de Bloc Party, esta versión para mi es mejor que la original
MP3s:
Final Fantasy – An Actor's Revenge (Destroyer Cover)
Final Fantasy – Cliquot (Beirut Cover)
Final Fantasy – Fantasy (Mariah Carey Cover)
Final Fantasy – No Cars Go (The Arcade Fire Cover)
Final Fantasy – Paris 1919 (John Cale Cover)
Final Fantasy – Peach, Plum, Pear (Joanna Newsom Cover)
Final Fantasy – This Modern Love (Bloc Party Cover)
Final Fantasy – Your Ex-Lover Is Dead (Stars Cover)
Final Fantasy – The Power Of Love (Celine Dion cover) <– via Music Slut
[tags]final fantasy, owen pallett, destroyer, beirut, mariah carey, arcade fire, john cale, joanna newsom, bloc party, stars, cover me[/tags]