morning becomes eclectic
4
Live @ Morning Becomes Eclectic Grizzly Bear performed a new song called While You Wait for the Others.
You can listen the whole show right here at KCRW site
En vivo para el programa Morning Becomes Eclectic, Grizzly Bear dio a conocer una nueva canción llamada While You Wait for the Others.
Puedes escuchar el show completo directamente en site de KCRW
MP3:
Grizzly Bear – While You Wait for the Others ( @ Morning Becomes Eclectic)
[tags]grizzly bear, morning becomes eclectic, new song[/tags]
6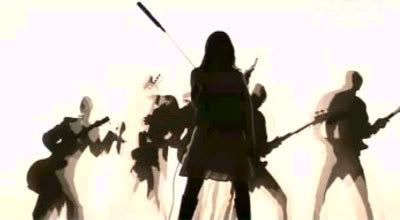 English Version:
Yeap, this is old stuff, but right now I have a
Broken Social Scene
fever and since last week I was looking for this excellent acoustic performance and I couldn't find it, all the links expired. So, I could rip the audio.
At the end of the post the MP3's

Versión en Español:
Si, esto es viejo, pero actualmente tengo una fiebre de escuchar Broken Social Scene y desde la semana pasada buscaba este set acústico y no conseguí nada, todos los links expiraron, a la final pude ripear el audio directo del Morning Becomes Eclectic.
Format: MP3
Bitrate: 256 kbps
01 Superconnected (download MP3)
02 Handjobs For Holidays (download MP3)
03 Major Label debut (download MP3)
04 Ibi Dreams Of Pavement (download MP3)
05 All My Friends (download MP3)
06 Intuition (download MP3)
Download:
- Setlist on Zip (download)
- Complete Set without interruptions (download)
[tags]Broken Social Scene, Morning becomes eclectic, KCRW[/tags]
0

English Version:
Something to remember:
Feist played the last song from acoustic session of Broken Social Scene at KCRW's Morning Becomes Eclectic on November 08, 2005. The song was Intuition, but this isn't a Broken Social Scene one.
Intuition is from Feist's album The Reminder.
MP3:
Feist – Intuition (Live @ KCRW 11.08.05)

Versión en Español:
Para recordar:
La última canción en la sesión acústica del KCRW Morning Becomes Eclectic de Broken Social Scene fue interpretada por Feist, pero la canción no es de la banda sino original de ella. Intuition está incluida en su reciente álbum The Reminder.
MP3:
Feist – Intuition (Live @ KCRW 11.08.05)
[tags]Broken Social Scene, Morning becomes eclectic, KCRW, Feist, Intuition, the reminder[/tags]