mexico
2
Finally Rodrigo y Gabriela made their first live show in their country last April 9th on Mexico City. According to a spanish review from the 10:1 guys, it was GREAT!!! and by looking the youtube video I confirm it. In that video you can watch their performance of Wish You Were Here (and watch Rodrigo playing the guitar with a beer bottle…. literally)
As I said before in their Glastonbury 2007 performance, when an instrumental band plays that song it's very exciting because "the singers are the public". In the Mexico performance there's such a good vibe, people actually singing and being a real part of the whole show.. good for all of them
Bien dice aquel refrán "Nadie es profeta en su tierra", pero finalmente Rodrigo y Gabriela el 9 de abril dieron su primer concierto en su tierra natal en Ciudad de México. De acuerdo al review de los amigos de 10:1 el concierto fue grandioso y me lo confirmó un video que alguien subió en youtube donde interpretaban Wish You Were Here (ver a Rodrigo tocar la guitarra con una botella de cerveza…. literalmente).
Como lo dije hace casi un año cuando el Glastonbury 2007 debe ser muy emocionante "cantar" esa canción para una banda plenamente instrumental porque en ese momento reciben el feedback de la audiencia y eso lo pueden ver en el video, luego siguieron con el show interactuando con el público dejándolos formar parte activa del concierto, buena vibra, bravo por ellos y por los que asistieron
[tags]rodrigo y gabriela, mexico[/tags]
1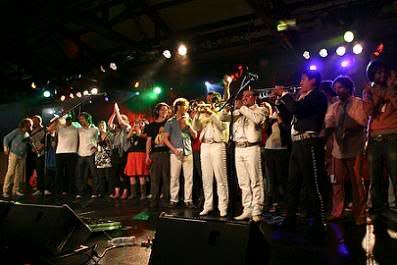 photo by benedictedesrus02
Nope, I didn't go to that concert… I was just waiting for mexicans friends' reviews and comments, one thing that was funny was the Kevin Drew shirt "emo vs punk = peace", and also the mariachis @ the concert, for more reviews you can go to Indestructible or 10:1 both in spanish.
At bottom, Shoreline song… with mariachis
Update:
- another amazing flickr set -> CyberGus
- Also, BrooklynVegan has posted about this.
No, yo no fui al concierto, estaba esperando comentarios y reseñas de mis amigos mexicanos y algo que me pareció gracioso fue la franela de Kevin Drew en el que "proclama" "emo vs punk = peace", lo otro que me llamó la atención era la participación de mariachis en el concierto junto con la banda. Si quieres reseñas del festival puedes ir a estos enlances Indestructible o 10:1 los 2 en español.
A continuación la presentación de la canción Shoreline con mariachis
Actualización:
- Otro impresionante flickr set -> CyberGus
- También BrooklynVegan hizo mención al respecto.
[youtube]VtLnGP7SjjI[/youtube]
[tags]broken social scene, mexico, indie-o[/tags]
4

Español:
Aprovechando las festividades de Semana Santa me anticipo a tomar un break en el blog y así ir preparándome para visitar el bello país de México para asistir entre otras cosas al concierto de Yann Tiersen del 31 de Marzo en el Teatro de la Ciudad (muéranse de la envidia, jeje), por lo que hasta el 9 de Abril verán poca o nula actividad en este espacio.
En su momento tendrán reseña del concierto, ya pasó mi preocupación en saber que seguramente no veré al Yann Tiersen de Amelie, sino al del sonido más rockero/experimental siguiendo el estilo que ha estado tomando en esta última gira y que se ha visto plasmado en su reciente disco en vivo titulado "On Tour"
PD: Ya les dije que se murieran de la envidia no?
La Crise (On Tour version)
[youtube]vljrxx6Pof8[/youtube]

English:
Deaf Indie Elephants is taking a break, I'm going to visit the beautiful country of Mexico in order to assist to Yann Tiersen's concert on March 31th. So, from this moment until April 9 you won't see any activitie on the blog (maybe one or two posts)
You will have a review of the concert. Right now, I KNOW I won't see the Yann Tiersen from Amelie…. the new Yann has a rock/experimental style, you can notice this in his new live cd "On Tour"
See you!!
La Crise (On Tour version)
[youtube]vljrxx6Pof8[/youtube]
[tags]Deaf Indie Elephants, Yann Tiersen, Envy, Yiyo, Cochina Envidia, Mexico[/tags]