massive attack
4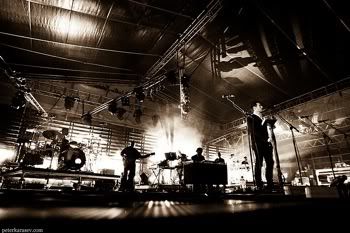 Massive Attack began 2008 tour last month. I started to check new songs from the concerts and I found in MP3 (with a decent audio quality) 8 new tracks (I know there are more out there). My favorites so far are: All I Want, Red Light, Marakesh (I know I'll like this one MORE when I find a better version) & Dobro (excellent at the end of some concerts)
Enjoy these tracks and let's wait the new album, but in the meantime, with an upcoming Massive Attack's work, and the new Tricky & Portishead's albums is our obligation to "welcome back 1998″
Massive Attack empezó su gira 2008 el mes pasado. Rápidamente empecé a revisar algunos setlist y pude precisar 8 nuevas canciones (y existen otras más que se me escaparon y no encontré en MP3). Por ahora me agradan: All I Want, Red Light, Marakesh (el cual se que me gustará más si consigo una mejor versión) y Dobro (el cual ha sido buena elección al cerrar algunos conciertos).
Asi que en la espera del nuevo disco sólo me queda recordar que con Massive Attack en camino, y con los nuevos discos de Tricky y Portishead le damos la bienvenida nuevamente a 1998
Download:
Massive Attack – 8 New Songs (live)
Setlist:
16 Seeter
Massive Attack – All I Want
Dobro
Harpsichord
Kingpin
Marakesh
Marooned
Red Light
[tags]massive attack[/tags]
2
This is not the full concert, this is the BBC webcast.
Esto no es el concierto completo sino lo que se transmitió en el webcast de la BBC.
Download:
Massive Attack – Glastonbury 08 (BBC Webcast)
Setlist:
1.- All I Want
2.- Massive Attack – Teardrop (Glastonbury 08)
3.- Karmacoma
4.- Safe from Harm
5.- Angel
6.- Unfinished Sympathy
[tags]massive attack, glastonbury 08[/tags]
2
2 covers that I forgot to share from BBC Radio 1′s Live Lounge.
Mika (I really don't know about him) covering classic Massive Attack's Teardrop and Leona Lewis with her version of Snow Patrol's Run.
2 covers que se me olvidó compartir tomado del Live Lounge de Radio 1 de la BBC.
Primero Mika (que en realidad no se nada de él) haciendo cover del clásico de Massive Attack – Teardrop y Leona Lewis haciendo su versión de Run de Snow Patrol.
MP3s:
Mika – Teardrop (Massive Attack Cover) (Live @ BBC Live Lounge) [alt link]
Leona Lewis – Run (Snow Patrol Cover) (Live @ BBC Live Lounge) [alt link]
[tags]mika, leona lewis, massive attack, snow patrol, bbc, radio 1, live lounge, cover[/tags]