fur and gold
0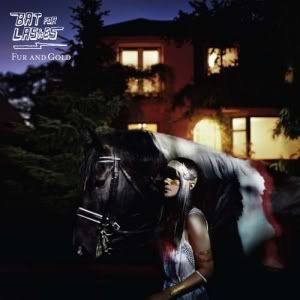 English Version:
With a Mercury Prize 2007 nomination and a peculiar video in high rotation, Bat For Lashes won my attention. It's not a group, in fact is the musical alter ego of British Pakistani Natasha Khan, whose visual style emphasizes the culture and religion of the old continent.
Musically, the basis of Fur & Gold are on the same road of artists like Björk, Tori Amos and Kate Bush. Nonetheless, the essence of her style reminds me of Tori Amos' Little Earthquakes (precisely in tracks like Trophy and What's A Girl to Do?).
With all the dark and bizarre atmospheres Bat For Lashes is my new obsession nowadays, and her video What's a Girl To Do? is simple but just terrific, I really like the Donnie Darko / haunting style, just like the nature of the song.
Highlights:
Horse and I, Trophy, Tahiti, What's a Girl To Do?, Prescilla
MP3: Bat For Lashes – Horse and I
Bat For Lashes – What's a Girl To Do?
[youtube]n1wnOUH2jk8[/youtube]

Versión en Español:
Con su nominación al Mercury Prize 2007 y un video en rotación muy peculiar, Bat For Lashes se ganó mi atención. No es un grupo, sino el alterego musical de Natasha Khan, inglesa de ascendencia pakistaní cuyo estilo visual evidencia esa mezcla cultural / religiosa del viejo continente.
Musicalmente hablando, Fur & Gold, su trabajo debut, se establece sobre el camino que artistas como Björk y Tori Amos han trazado. Aunque han nombrado que recuerda a Cat Power y Kate Bush esto me parece más a nivel vocal. Sin embargo, la esencia de su estilo me recuerda demasiado al Little Earthquakes de Tori Amos (precisamente en tracks como Trophy y What's A Girl to Do?
Con atmósferas muy oscuras y místicas Bat For Lashes la tengo en constante rotación en estos días y su video de What's a Girl To Do? es simple pero sencillamente genial por el estilo Donnie Darko / tenebroso que impone capturando la naturaleza de la canción.
Highlights:
Horse and I, Trophy, Tahiti, What's a Girl To Do?, Prescilla
MP3: Bat For Lashes – Horse and I

[tags]bat for lashes, fur and gold, review[/tags]