flying club cup
4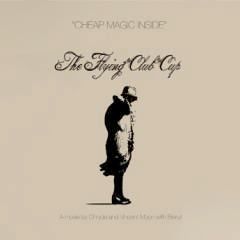 English Version:
Blogotheque's guys went to NY to record with Beirut each track of The Flying Club Cup album.
At the flyingclupcup website you can watch every performance, but the good news is that this project will go to DVD with bonus extras and yada yada yada, it will be titled "Cheap Magic Inside" and will be available in the European tour, we're still waiting for the US release information,
So, here's the ripped of each track from the blogotheque's videos until the official release of the DVD. (it would be nice if Blogotheque and FlyingClubCup guys create a CD from these recordings)
Via: Pitchfork

Versión en Español:
Los chicos de La Blogotheque fueron recientemente a NY para grabar cada track del álbum The Flying Club Cup de Beirut.
El resultado de cada video se puede apreciar en el site flyingclubcup.com, sin embargo la buena nueva es que decidieron convertir este proyecto en un DVD titulado "Cheap Magic Inside" el cual será distribuido en la próxima gira europea de Beirut, todavía se espera por la información sobre el lanzamiento en USA.
Es por ello, que aquí podrás escuchar cada track ripeado de esas grabaciones, al menos hasta que salga el DVD oficial y se pueda apreciar con mejor calidad. (por cierto, sería bueno que el equipo de la Blogotheque y FlyingClubCup sacaran un CD de estas grabaciones)
Via: Pitchfork
Tracklist:
Beirut @ Cheap Magic Inside Recordings or the Flying Club Cup Live
Beirut – Nantes (Flying Club Cup Live)
Beirut – A Sunday Smile (Flying Club Cup Live)
Beirut – Guyamas Sonora (Flying Club Cup Live)
Beirut – La Banlieu (Flying Club Cup Live)
Beirut – Cliquot (Flying Club Cup Live)
Beirut – The Penalty (Flying Club Cup Live)
Beirut – Forks and Knives (La Fête) (Flying Club Cup Live)
Beirut – In the Mausoleum (Flying Club Cup Live)
Beirut – Un Dernier Verre (Pour la Route) (Flying Club Cup Live)
Beirut – Cherbourg (Flying Club Cup Live)
Beirut – St. Apollonia (Flying Club Cup Live)
Beirut – The Flying Club Cup (Flying Club Cup Live)
[tags]blogotheque, cheap magic inside, beirut, beirut, flying club cup[/tags]