fables
2

English Version:
Brooke Gallupe had the kindness to answer a few questions for Deaf Indie Elephants ahead of the release of Immaculate Machine's new album:
1.- What's the story behind naming the album Fables and what's the concept around this work?
We had a long list of titles that were pretty much all jokes. When you sit together for weeks at a time in an enclosed studio space, you start to go a little crazy so we made up all these nonsense titles. But when we saw the artwork, it looked so… fablesy that we took the word from Roman Statues. Simple but it works.
2.- What can you tell us about the record process of Fables?
This was the first time we haven't just settled for whatever was happening. We were unhappy halfway through with our producers, John Collins and Dave Carswell, so we fired them. They are awesome guys and very talented but working on an album can be stressful and little problems can seem huge. We also made the tough – but right – decision to cut out all but ten songs, even though people had personal attachments to some of the not-selected songs. Mint Records wanted the album finished way before when it actually was, and for good reason, but we chose to take our time anyway. We took a more aggressive attitude about getting just what we wanted out of this album.
3.- Tell us about the collaborations on Fables. How did you get it together?
Any chance to play with them on tour?
We are hoping we get the chance to play with our string section, Owen Pallett and Mike Olsen. Their contributions were so cool, especially considering they recorded their parts in a different city and we gave them almost no direction. They are sweet guys. We met them a long time ago on one of our first tours.
Alex Kapranos and The Cribs' backup vocal addition to the album was entirely random and flukey. They were recording in Vancouver as well and they were being toured around the city. They showed up at the studio and graciously accepted our request for some English/Scottish accents on Jarhand. Good sports.
4.- What's like to being linked with The New Pornographers, are you concern about the comparison with the band?
Obviously the link with the New Pornographers helped us a a lot at first, and we had a fantastic time with them on tour in 2005. But it didn't take too long for the constant comparisons to get tiresome. The worst is the scheduling though; we are constantly battling with them over Kathryn for shows. Every time I listen to their music now, it all just sounds like scheduling complications to me.
5.- What guided your decision to release a French EP, is there a chance to release in the future a French version of Fables?
I love French, I studied French literature and translation in university so making the french EP (translated versions of songs from Ones and Zeros) was a chance for me to do something a little different in between our English album releases. I don't think we'll translate Fables but someday I would like to do an album of songs written in French.
6.- What's your favorite song from your upcoming album and why?
C'mon Sea Legs was the biggest wildcard. We tried it a dozen ways, adding instruments and taking them off over and over. It ended up with a marching drum, musical saw and some high-pitched humming through an amp. The fact that it sort of worked out, and worked out differently than expected, makes it my favorite.
7.- Arcade Fire, Broken Social Scene, Final Fantasy, New Pornographers, Feist, among others are bringing the best of music these days, it seems that Canada is the center of musical greatness… so, as a friend told me recently about Canadian music: "what've you been smoking to make such an excellent music?
We smoke whatever we've got. You're right, though, there are some great bands in Canada right now. We're happy to be part of the scene.
8.- Your opinion about the support of music blogs around the indie music scene. Does it affect you? (for good or bad)
I don't know. Now is the first time anyone on the internet has really paid attention to us. It couldn't be too bad.
9.- Your opinion on file-sharing
Inevitable.
10.- What albums/bands are you listening that you recommend?
Lately, in high rotation: Jonathan Richman, Yeah Yeah Yeahs, Ratatat, Kimya Dawson, Wolf Parade
11.- What's on the horizon for the band?
We're doing our local CD releases this week and going to England next week. We are really excited. Then we'll come back to do some proper tours of Canada and probably the USA.
DIE: Thanks Brooke for your time. Enjoy Immaculate Machine's New album Fables, for more information check their MySpace.

Versión en Español:
Brooke Gallupe tuvo la ambilidad de responder unas preguntas para Deaf Indie Elephants a raíz del lanzamiento del nuevo álbum de Immaculate Machine:
1.- ¿Cuál es la historia detrás del nombre del álbum "Fables" y cuál es el concepto alrededor del mismo?
Tuvimos una larga lista de títulos que eran más bien chistes. Cuando te sientas juntos por semanas en un estudio cerrado, empiezas a volverte un poco loco, por lo que inventamos esa cantidad de títulos sin sentido. Pero cuando vimos el trabajo artístico del mismo, se veía tan "fablesy" (fabulesco??) que tomamos esa palabra de Roman Statues. Simple pero funciona.
2.- ¿ Qué puedes decirnos del proceso de grabación de Fables?
Esta fue la primera vez en que no nos decidíamos en ningún aspecto. Éramos infelices con nuestros productores, John Collins y Dave Carswell, y tuvimos que despedirlos. Son increíbles personas y muy talentosas pero trabajar con ellos en un álbum puede ser estresante, convirtiendo pequeños problemas en grandes.
También hicimos la difícil pero acertada decisión de dejar 10 canciones, aun y cuando personas tienen apegos personales con algunas de las no seleccionadas. Mint Records quería el álbum terminado mucho antes de lo que actualmente fue, y por una buena razón, pero decidimos tomarnos nuestro tiempo. Tomamos una actitud agresiva en obtener lo que queríamos sacar del álbum.
3.- Coméntanos sobre las colaboraciones en Fables. ¿Cómo lo lograron? ¿Hay alguna oportunidad que toquen con ellos en tour?
Esperamos tener la oportunidad de tocar con Owen Pallet y Mike Olsen. Sus contribuciones fueron muy cool, especialmente al considerar que grabaron sus partes en distintas ciudades y sin haberles dado dirección alguna a seguir. Son muy agradables, los conocimos hace mucho tiempo en uno de nuestros primeros tours.
Las voces de Alex Kapranos y The Cribs fueron totalmente al azar. Ellos grabaron en Vancouver y estaban de tour pr la ciudad. Se presentaron en el estudio y graciosamente aceptaron nuestra solicitud para incorporar acentos Escoceses e Ingleses en Jarhand.
4.- ¿Qué se siente tener un nexo con The New Pornographers, están preocupados por las comparaciones ?
Obviamente el nexo con The New Pornographers nos ayudó muchísimo al comienzo, y tuvimos un momento genial con ellos en tour en el 2005. Pero no tomó mucho tiempo para que las constantes comparaciones se volvieran agotadoras. Lo peor es el itinerario, estamos constantemente batallando con ellos por Kathryn para los shows. Cada vez que escucho su música hoy en día, sólo suena a complicaciones en el calendario para mi.
5.- ¿Qué los guió en lanzar un Ep en francés, hay alguna posibilidad en el futuro de sacar una version en ese idioma del Fables?
Me encanta el francés, Estudié literatura francesa y traducción en la Universidad por lo que hacer el EP francés (versiones traducidas del álbum Ones and Zeros) fue un rato para mi en hacer algo distinto a nuestros lanzamientos en ingles. No creo que traduzcamos en francés el disco Fables, pero algún día me gustaría hacer un álbum con canciones escritas en ese idioma.
6.- ¿Cuál es tu canción favorita del nuevo álbum?
C'mon Sea Legs fue la gran sorpresa. Intentamos diversos caminos, agregando instrumentos y desmontándolos una y otra vez. El hecho que haya funcionado de manera distinta a lo que esperábamos, la hace mi favorita.
7.- Arcade Fire, Broken Social Scene, Final Fantasy, New Pornographers, Feist, entre otros están ofreciendo lo mejor en música estos días, parece ser que Canadá es el centro de la creatividad musical. Es por ello que un amigo me comentó y les pregunto: ¿ Qué han estado fumando para hacer tan Buena música?
Fumamos cualquier cosa que tengamos. Sin embargo tienes razón, hay muy buenas bandas actualmente en Canadá, estamos felices de ser parte de esa escena.
8.- Tu opinión sobre el apoyo de los blogs musicales en la escena musical indie. ¿Los ha afectado de alguna manera, ya sea mala o buena?
Realmente no se, ahora es que están tomándonos en cuenta los chicos de la Internet. No podría ser malo.
9.- Tu opinión sobre descargas musicales.
Inevitable.
10.- ¿Qué álbumes y bandas han estado escuchando que recomienden?
Últimamente en alta rotación: Jonathan Richman, Yeah Yeah Yeahs, Ratatat, Kimya Dawson, Wolf Parade
11.- ¿Qué hay en el horizonte para la banda?
Estamos haciendo el lanzamiento del álbum esta semana e iremos a Inglaterra la próxima semana. Estamos muy entusiasmados, luego regresaremos para hacer el tour por Canadá y seguramente USA
DIE: Gracias Brooke por tu tiempo. Disfruten el nuevo álbum de Immaculate Machine "Fables", para más información visiten sy MySpace.
[tags]Immaculate Machine, interview, Brooke Gallupe, Fables, new pornographers[/tags]
0

English Version:
- They are from Canada and Canadian music scene rules.
- Final Fantasy's Owen Pallet, Franz Ferdinand's Alex Kapranos and The Cribs collaborate on this album.
- Kathryn Calder is also a member of New Pornographers
- They have one of the best intro on a song/album (Ones & Zeros album):
"We are sailing on a broken ship, but only one of us can survive
I don't want to go, If it means you die"
- They made an EP featuring French version of songs from Ones & Zeros album.
……and they have just released Fables
I've already said this, but even though you can sense the influence of New Pornographers on this album,Immaculate Machine has its own independence and style.
Fables begins with Jarhand and Dear Confessor, two great upbeat tracks to convince you. Then the album goes through a mix between what I called "little anthems" referring to those drama-popish songs, for example: Roman Statues & Old Flame. Finally I conclude saying that C'mon Sea Legs is one of the greatest highlights on this album (for some reason this track sounds "Bleeding Heart Show-esque" to me, imho)
Fables, a 2007 surprise.
Highlights:
- Jarhand
- MP3: Dear Confessor
- Roman Statues
- Nothing Ever Happens
- C'mon Sea Legs. ? Recommended.
You can stream the album right here
http://mintrecs.com/quicktime/immaculatemachine/fables/


Versión en Español:
- Son canadienses, y la escena musical de Canadá es la que manda actualmente.
- Final Fantasy: Owen Pallet, Franz Ferdinand: Alex Kapranos y The Cribs colaboraron en este álbum
- Kathryn Calder es a su vez integrante de The New Pornographers
- La banda tiene uno de los mejores intro para una canción y álbum (correspondiente al Ones & Zeros):
"We are sailing on a broken ship, but only one of us can survive
I don't want to go, If it means you die"
- No se durmieron en los laureles y realizaron un EP con versiones francesas del Ones & Zeros.
- Y finalmente lanzaron Fables
Ya lo había dicho, en este trabajo se palpa la influencia de New Pornographers, sin embargo Immaculate Machine demuestran independencia y estilo único.
Fables comienza con Jarhand y el single Dear Confessor, dos amenas canciones para convencer de que va el disco, sigue con pequeños "himnos" característico por ser canciones de corte "dramáticos" pero con cierto aire popish ej: Roman Statues y Old Flame. Finalmente he de concluir que C'mon Sea Legs es una de las mejores canciones del álbum y de su trayectoria (por alguna razón, este track suena un poco "Bleeding Heart Show-esque" en mi opinión)
En fin, Fables, una sorpresa del 2007.
Highlights:
- Jarhand
- MP3: Dear Confessor
- Roman Statues
- Nothing Ever Happens
- C'mon Sea Legs. ? Recomendada..
Puedes escuchar en stream el álbum en la siguiente dirección:
http://mintrecs.com/quicktime/immaculatemachine/fables/
[tags]Immaculate Machine, Fables, jarhand, dear confessor, c'mon sea legs, new pornographers[/tags]
0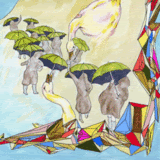 Español:
Para el 12 de Junio está pautado la salida del nuevo álbum de los canadienses Immaculate Machine llamado Fables, en esta oportunidad con colaboraciones de Owen Pallet (Final Fantasy) y Alex Kapranos (Franz Ferdinand) en un fresco trabajo con un sonido en el que la influencia de The New Pornographers se nota y se disfruta instantáneamente.
+info: Una Piel de Astracán
Immaculate Machine MySpace Website

English:
The new album of Immaculate Machine named Fables will be released on June 12th, in this opportunity with collaborations of Owen Pallet (Final Fantasy) and Alex Kapranos (Franz Ferdinand) in a fresh work with a style that resembles the sound of The New Pornographers, which is instantly enjoyable.
Immaculate Machine MySpace Website
+info: Una Piel de Astracán
[tags]Immaculate Machine, Fables[/tags]