electroma
3

English Version:
Recently I watched Daft Punk's film Electroma, even though the music is not from the band I wanted to compile the "OST".
Good news, it's already done. Not by me, but the people from Bosbos.net
Here there's the unofficial Electroma's OST. Via: Bosbos.net

Versión en Español:
Recientemente vi el último film de Daft Punk "Electroma", a pesar que la música no es de ellos quería compilar el "soundtrack".
La buena noticia es que ya está hecho, no por mi, sino por los chicos de Bosbos.net
Por lo que aquí lo tienen el Soundtrack No Oficial de Electroma. Via: Bosbos.net
[tags]daft punk, electroma, soundtrack, ost[/tags]
17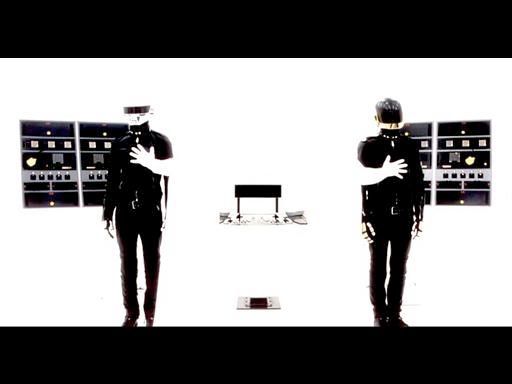 English Version:
Finally I watched the second film of
Daft Punk
titled
Electroma
. I read all kind of reviews before watch it and I was a little bit predisposed to it. In the end, I must say this project is not for everybody, but it'll enter in the category of cult-"movie".Without spoiling,
Electroma
, written and directed by
Thomas Bangalter
and
Guy-Manuel De Homem-Christo
(Daft Punk) is the 75 minutes odyssey of two robots to become humans, or as I want to call it "robots get depressed too"
Forget about Interstella 5555, this is not an animated film and it's not a musical, in fact all the songs played on this SILENT movie aren't from Daft Punk, but are perfect in the plot of the movie… ahh btw, the Daft Punk guys don't act in this film.
For that reason, Electroma represents a film very experimental, probably a whim or a risky project of the band (it's a shame they don't took benefit from "Human After All", that album is the perfect complement for the movie)Anyway, this film made justice to that proverb "A picture is worth a thousand words", Electroma's strengths are the frames, the landscapes and the visual atmospheres created (for example: I'll never forget the "clockwork orange-esque" white room scene, those images are stuck in my mind)
I watched Electroma at night and I didn't fall asleep, in fact I wanted to know the end of the story and I really like it, (and sometimes I cry) so I believe this movie was well done, but I won't watch it everytime, it's not for everybody. The only thing I hated was the timing; 75 minutes is enough for this kind of movie, but watching two robots with existentialist problems walking on a desert with the music of Chopin is really priceless.
Recommended for: brave film lovers, snobs, experimental guys and for every fan of the band (watch out: fan of the band, not its music)
The Good:
- It's Daft Punk
- Unforgettable scenes
- The music and its relation with the story.
- The final scene :_(
The Bad:
- 75 minutes for this kind of project is enough. Easily it could have been a short movie.
- Sometimes is boring.
- Not for everybody.

Versión en Español:
Finalmente logré ver el tan comentado y esperado proyecto de
Daft Punk
llamado
Electroma
. Si bien ya había leído varias reseñas al respecto estaba un poco predispuesto ante la película. A la final puedo decir que a pesar que no es para todo público, entrará en esa categoría de "culto cinematográfico".
Sin tratar de revelar más allá de lo que se puede intuir en los trailers y el plot.Electroma, escrito y dirigido por Thomas Bangalter y Guy-Manuel De Homem-Christo (Daft Punk) es la odisea en 75 minutos, de 2 robots en querer ser humanos, o como yo lo llamo "los robots también se deprimen"Olvídense de Interstella 5555, esto no es animado, ni es un musical, de hecho las canciones de fondo (porque la película es MUDA) no son de Daft Punk pero están bien logradas dándole sentido a las situaciones que se presentan y a diferencia de lo que pensaba en un principio: Daft Punk tampoco actúan.
Por tales razones Electroma representa un film muy experimental, hasta podría decirse que es un capricho y movimiento arriesgado del grupo musical (lástima que no le sacaron todo el provecho junto con "Human After All" porque hubiese sido el complemente efectivo para el proyecto).El film le hace justicia a lo de "una imagen vale más que mil palabras". Es por ello que su fuerte son las tomas, los paisajes, las atmósferas visuales creadas (por ejemplo: la escena del "laboratorio" todo blanco con cierto guiño al Milk Bar de la Naranja Mecánica es una imagen que JAMAS se me olvidará, al igual que la última escena.).
Electroma la vi en la noche y no me quedé dormido, de hecho quería saber como terminaba la trama, y me gustó mucho y luego de varios días de haberla visto, todavía "me da cosita" la historia y por ello pienso está bien lograda, el mensaje llegó.
Tampoco es para verla a cada rato, ni es para todo público y lo único que le reclamo realmente es que pudieron hacerla más corta y hubiese quedado mejor, aunque ver a dos robots con problemas existenciales caminando en un desierto teniendo como fondo musical a Chopin no tiene precio.
Recomendado para cinéfilos valientes, snobistas, presumidos, experimentales y para los fans de la banda. (ojo: de la banda, no de su música).
Pros:
- Es Daft Punk
- Escenas inolvidables.
- La música y su interrelación con la trama.
- La escena final :_(
Contras:
- Fácilmente pudo haber sido un cortometraje y hubiese quedado mejor.
- Aburrida en momentos.
- No es para todo público.
[tags]daft punk, electroma, human after all[/tags]