death proof
2
[youtube]H8Pypwx1vy8[/youtube]

English Version:
I always enjoy a Tarantino OST. Without a doubt there's always a song that I didn't know (usually a classic) or I finish discovering a new band.
My last experience was with Death Proof OST with the song Baby It's You. Oh man, that track is stuck in my mind since the release of the cd and yep I didn't know that track until that moment.
So, a little bit of research cough*wikipedia*cough I found that it was written by Burt Bacharach (music), Barney Williams and Mack David (lyrics), at the beginning it was performed by Shireless and The Beatles but it's Smith's version one of the most populars reaching #5 at Billboard.
From all the versions listed here I got 5 to enjoy:
MP3s:
The Beatles – Baby It's You
Carpenters – Baby It's You
Elvis Costello – Baby It's You
Shireless – Baby It's You
Smith – Baby It's You

Versión en Español:
Un agradable momento es ver un soundtrack de alguna película de Tarantino. Sin duda alguna siempre tendrá una canción que ya conocías y te enganchas de manera inexplicable o simplemente descubres alguna banda que generalmente tiende ser algún clásico desempolvado.
El último caso corresponde a Death Proof con Baby It's You, me he enganchado demasiado con esa canción, además que no la había escuchado antes.
Haciendo research, Baby it's you fue escrita por Burt Bacharach (música), Barney Williams y Mack David (letra), interpretada en sus inicios por Shireless y The Beatles pero no es sino la de Smith
una de las más conocidas llegando a ocupar el número 5 en la lista Billboard.
De varias versiones que existen aquí hay 5 para disfrutar:
MP3s:
The Beatles – Baby It's You
Carpenters – Baby It's You
Elvis Costello – Baby It's You
Shireless – Baby It's You
Smith – Baby It's You
[tags]death proof, beatles, carpenters, elvis costello, shireless, smith, baby it's you, covers[/tags]
1

Español:
Para empezar, no hay que tomarse muy en serio la película, sino disfrutarla como una experiencia. Experiencia que lamentablemente no presenciaremos en vista que decidieron proyectar cada segmento de manera separada en casi todos los países, trataré ser lo más superficial posible en las descripciones para no tener que revelar trama ni caer en spoilers.
Con este film, Rodríguez y Tarantino se unen para rendir tributo a las "B Movies", incorporando la estructura de este tipo de películas en el siglo XXI: clichés, missing reels y mucha sangre. En fin, se adueñan y mantienen la dinámica de los cines "grindhouses" en los que pasaban 2 películas de terror de bajo presupuesto por el precio de una, de ahí el nombre de la film.
Para empezar, los fake trailers, uno mejor que el anterior, mi favorito es Thanksgiving por una escena en especial que les aseguro no dejará indiferente a NADIE y Don't por lo ridículamente gracioso que llega ser, mención especial el cameo que hace Nicolas Cage en Werewolf Women of the SS como Fu Manchu.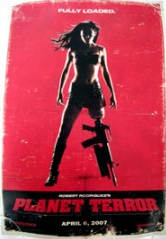 Planet Terror: El segmento de Rodríguez es un homenaje a las películas de zombies de George Romero. De ella lo único que puedo decir es que cumple con entretener, sin embargo es el segmento que considero flojo en el film a pesar del inolvidable personaje Cherry Darling y su pierna/ametralladora.
Death Proof: Con la participación de Kurt Russel como Stuntman Mike manejando un carro que se convierte en su arma letal contra sus víctimas femeninas, este segmento es el que me gustó totalmente y es que Tarantino nunca dejará de cansarme. En esta oportunidad nos brinda prácticamente 1 hora 10 min de "girl talk" entre un grupo de amigas aderezado por un guión que Quentin nos tiene acostumbrado que hace recordar las conversaciones de Reservoir Dogs, para que al final en los 20 minutos restantes nos de una inolvidable escena de persecución jamás hecha en el cine, manteniéndote en el asiento sin querer pestañear.
Soundtracks: Planet Terror cuenta en su mayoría por scores de Rodríguez y de su banda Chingon, a mi pesar no hay mucha novedad en el mismo. Sin embargo el BSO de Death Proof vendrá a convertirse nuevamente en un must-have, Tarantino mantiene su trademark en recopilar cuidadosamente canciones que encajen con la estructura de las escenas para que difícilmente llegues a olvidarlas, actualmente tengo en loop Baby It's You de Smith.
En fin, Grindhouse termina por convertirse en mi nueva obsesión y película de culto, esperando que la den en el cine para verla y que salgan las ediciones especiales en DVD.
Para finalizar, aquí una entrevista con Tarantino y Rodríguez en el que revelan lo que hay en la maleta de Wallace en Pulp Fiction, sólo en inglés.
They call him Machete…………

English:
At first, you can't take this film so seriously, you have to enjoy it. Grindhouse was conceived to be an experience,
With this film, Rodríguez and Tarantino get together to bring a double feature film with allusions of B Movies: clichés, missing reels and gore. Both directors kept the poor quality from that kind of movies that were shown in theaters commonly called grindhouses.
The fake trailers, one better than the other, my favorite was Thanksgiving because it has a scene that you will remember FOREVER, believe me. Don't is the other funny trailer I liked the most because is ridiculous. I can't forget to mention the cameo of Nicolas Cage in Werewolf Women of the SS as Fu Manchu. lol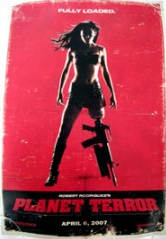 Planet Terror: This segment directed by Rodríguez pays homage to zombie movies, especially George Romero genre. For me, this film is the weakest, I enjoyed it but it wasn't great even though Cherry Darling and her prosthetic leg is a character to remember.
Death Proof: In this segment Kurt Russel is Stuntman Mike and drives a car that is the lethal weapon against his female victims. I have to say, Death Proof is the best of both movies, Quentin will always shock me. In this opportunity he brings 1 hour and 10 minutes of "girl talk" among groups of girlfriends with a script that is very "Tarantino" that reminds me to a female version of Reservoir Dogs. Finally, the last 20 minutes you will see one of the best action sequence ever made in movies, you'll stay in your seat without blinking.
Soundtracks: Planet Terror has Rodriguez's music scores played by him and his band Chingon, there is nothing new or awesome in this set. But, Death Proof's BSO is a must-have, this one has the trademark of Tarantino, songs carefully selected and incorporated in the scenes that you will remember over and over. Right now I'm loving Baby It's You by Smith.
Grindhouse is my new obsession and cult movie, it's a shame that will be projected as two separated films….. now I'm waiting for the special editions on DVD.
Finally, here's an interview with Rodríguez and Tarantino. He revealed the secret inside Wallace's briefcase in Pulp Fiction
They call him Machete…………
[tags]Grindhouse, Planet Terror, Death Proof, Quentin Tarantino, Robert Rodriguez[/tags]