beatles
7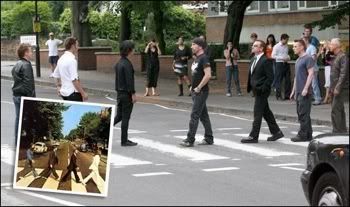 Thanks to an amazing tip from Vemeko now I know the creative work of a Venezuelan guy named Moises Szarf and his Ethereal Connection.
The Ethereal Connection is a theory where "U2 and The Beatles are brought together and treated as: Two inter-related rock bands" thanks to a chronological comparison and analysis of the bands' album covers.
The main hypothesis of Moisés is that Rock 'n Roll is a cycle with 3 phases two of which were fulfilled by The Beatles and U2, but in order to close it "there is, or will be a third band that will have (or is having) a career with this same shape of development.
So, with that hypothesis in mind, Moisés have built several comparisons between these bands, some of them are a little bit forced but others are interesting and make you have envy for not coming out with them first
, but in the end you'll read a great document full of curiosities and rarity information of these bands, every fan will have a nice time reading it.
Without more ado go to The Ethereal Connection. (All the document is in english) and also you can join their facebook group, which they are saying that probably the third band to close the cycle is Coldplay.
The Ethereal Connection :: Website – Facebook Group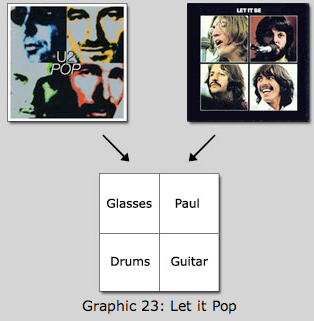 Gracias a un gran tip de Vemeko, además de 2 posts en su blog hace un bien tiempo (si te leo, pero en aquella época no sabía lo que era un blog
), me dio la oportunidad de conocer la creativa labor de un venezolano llamado Moisés Szarf, en el que expone su teoría de conexión de las bandas The Beatles y U2 al ir relacionando cronológicamente las carátulas de sus discos, todo bajo el nombre The Ethereal Connection.
Moisés parte de la siguiente hipótesis en que el Rock 'n Roll es un ciclo de 3 etapas del cual 2 han sido cubiertas por The Beatles y U2, para poder cerrarse ese ciclo existe o existirá una tercera banda que tendrá (o tiene) una carrera desarrollada de la misma manera que las anteriores.
En base a esta hipótesis él va desarrollando ciertas comparaciones entre las 2 bandas, algunas un poco rebuscadas otras que te hacen tener envidia por no pensarlo primero
pero que a la final lo que tenemos es un interesante documento que bien entra en la categoría de curiosidades de estas bandas y que todo fan pasará un buen tiempo en leerlas.
Sin más preámbulos vayan a The Ethereal Connection (texto en inglés) y además pueden unirse a su grupo en Facebook en el que de alguna manera ya se dan indicios que esa tercera banda es Coldplay.
The Ethereal Connection :: Website – Facebook Group
MP3s:
Paul McCartney & U2 – Sgt. Pepper's Lonely Hearts Club Band (Live Beatles cover)
Coldplay – Here Comes the Sun (Live Beatles cover)
[tags]beatles, u2, ethereal connection, coldplay[/tags]
0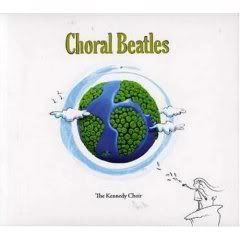 English Version:
Last year I planned to write the mandatory christmas post of the year with some mix of indie songs or something cheesy…. At the end I didn't do nothing but you can always make an excuse, for example wait for the chinese new year
Anyway, this is "that" post and I want to share info about The Kennedy Choir's Choral Beatles. This was a global project, all over the world searching for the best choral group in order to perform Beatles songs.
The chosen one was The Kennedy Choir from Argentina and the sales of the album is for charity… so it's bad karma to upload or leak a song from this, for that reason I'll share a youtube video (after the jump) from their recent concert in Spain with Chenoa and a mp3 of that video (that I can do it, it's not bad karma)
MP3:
The Kennedy Choir w/ Chenoa – Let It Be

Versión en Español:
El año pasado tenía pensado hacer el obligatorio post navideño con algún mix de canciones indies (o algo cursi que se le pareciera), en fin que llegamos al 2008 y no lo hice, pero siempre se puede inventar una excusa, por ejemplo… esperar el año nuevo chino
Bueno, ahora el momento musical y motivo principal del post.
Choral Beatles de The Kennedy Choir.
Este disco formó parte de un proyecto mundial para buscar una agrupación coral que interpretara canciones de los Beatles, a la final la seleccionada fue el Coro Kennedy de Argentina.
Como las ganancias del disco es por caridad y de acuerdo al manual de buen indie-mp3 blogger, regla 4: no hostear canciones de proyectos de caridad, les dejaré un video de youtube de su reciente presentación es España junto a Chenoa (y un mp3 de ese video, eso si se vale)
Esto es muy emotivo
MP3:
The Kennedy Choir w/Chenoa – Let It Be
[youtube]dbU4KF0YPtw[/youtube]
[tags]kennedy choir, choral beatles,beatles[/tags]
2
[youtube]H8Pypwx1vy8[/youtube]

English Version:
I always enjoy a Tarantino OST. Without a doubt there's always a song that I didn't know (usually a classic) or I finish discovering a new band.
My last experience was with Death Proof OST with the song Baby It's You. Oh man, that track is stuck in my mind since the release of the cd and yep I didn't know that track until that moment.
So, a little bit of research cough*wikipedia*cough I found that it was written by Burt Bacharach (music), Barney Williams and Mack David (lyrics), at the beginning it was performed by Shireless and The Beatles but it's Smith's version one of the most populars reaching #5 at Billboard.
From all the versions listed here I got 5 to enjoy:
MP3s:
The Beatles – Baby It's You
Carpenters – Baby It's You
Elvis Costello – Baby It's You
Shireless – Baby It's You
Smith – Baby It's You

Versión en Español:
Un agradable momento es ver un soundtrack de alguna película de Tarantino. Sin duda alguna siempre tendrá una canción que ya conocías y te enganchas de manera inexplicable o simplemente descubres alguna banda que generalmente tiende ser algún clásico desempolvado.
El último caso corresponde a Death Proof con Baby It's You, me he enganchado demasiado con esa canción, además que no la había escuchado antes.
Haciendo research, Baby it's you fue escrita por Burt Bacharach (música), Barney Williams y Mack David (letra), interpretada en sus inicios por Shireless y The Beatles pero no es sino la de Smith
una de las más conocidas llegando a ocupar el número 5 en la lista Billboard.
De varias versiones que existen aquí hay 5 para disfrutar:
MP3s:
The Beatles – Baby It's You
Carpenters – Baby It's You
Elvis Costello – Baby It's You
Shireless – Baby It's You
Smith – Baby It's You
[tags]death proof, beatles, carpenters, elvis costello, shireless, smith, baby it's you, covers[/tags]