arcade fire
0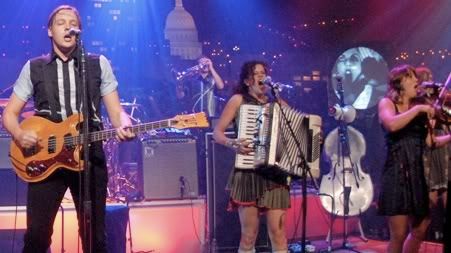 UPDATE: Sorry, Youtube removed the videos
During Holy Week finally I could watch The Arcade Fire performance from PBS' Austin City Limits show 2007. Everyone should know that when it comes to this band I'm totally fooled by them (remember, we are only humans
) but I must say this is really an excellent concert, definitely in my top 3.
I can't upload the whole concert (well, I can but I shouln't), BUT with all the greatest moments that concert has, it's my duty as a fan to show you the epic final featuring "Power Out-Rebellion-Wake Up".
As I could, I uploaded the videos to youtube, the quality isn't the best and there's an audio/video delay, but at least you got the momentum. At bottom the MP3 of these 3 songs… Enjoy it!!!
Durante vacaciones de Semana Santa por fin pude ver el concierto de The Arcade Fire del programa Austin City Limits de la PBS del año pasado. Si bien cuando hablo de la banda se pone en evidenia lo poco objetivo que soy al respecto (recuerden, somos humanos
) debo decir que me gustó demasiado esa presentación tanto que me apena haber tardado en verlo.
No puedo subir los MP3s (puedo más no debo), pero entre tantos grandes momentos que tiene esa presentación es mi deber como fan abnegado colocar buena parte del épico final que corresponde al bloque "Power Out-Rebellion-Wake Up".
Como pude subí a youtube todo ese bloque, ojo no es buena calidad y hay delay en el audio pero ahí está el momentun y mientras no me digan nada tomo la oportunidad de subirles ese bloque.
MP3:
The Arcade Fire – Power Out/Rebellion/Wake Up (Live @ PBS' Austin City Limits 07)
[tags]arcade fire, austin city limits, pbs[/tags]