Promoting || They Shoot Music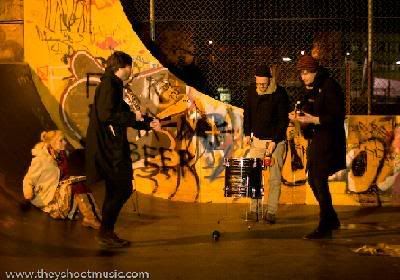 TheyShootMusic is a new (at least for me) videoblog of the same style as the Take Away Shows from La Blogotheque, that means: urban videos of indie music artists, but this time the location is Vienna.
I'm excited everytime a site like this is created, we have the pioneers from La Blogotheque, also Black Cab Sessions, Juan's Basement, among others.
At this moment TheyShootMusic have a bunch of videos from artists such as: Final Fantasy, Bishop Allen, Shout Out Louds, Two Gallants and more!… so check this site right now and enjoy their stuff.
- Site Oficial: TheyShootMusic – FAQ
TheyShootMusic es un nuevo (para mi) videoblog del mismo estilo que los Take Away Shows de La Blogotheque, esto significa: videos urbanos de interpretaciones de músicos indie, pero esta vez la locación es Vienna.
Cada vez que sale una propuesta como esta me emociono, ya tenemos a los pioneros de La Blogotheque, también está los Black Cab Sessions y otros como Juan's Basement, etc.
Hasta el momento tienen una gran gama de artistas incluyendo: Final Fantasy, Bishop Allen, Shout Out Louds, Two Gallants entre otros, asi que no esperes más y revisa este nuevo site que seguro dará mucho que hablar en el futuro.
- Site Oficial: TheyShootMusic – FAQ
[tags]theyshootmusic[/tags]