Archive for
April, 2008
4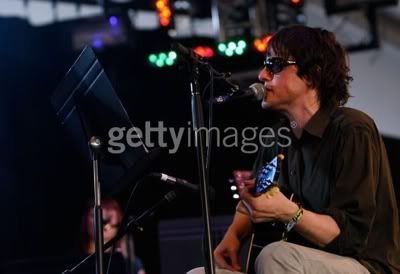 I almost forgot to check this performance… while I was watching it I was falling in love with these versions, they were very gospel and acoustic. The great moment began with the song Anything More, so beautiful…. BUT it didn't finish there, then Jason continued the song with Ladies & Gentlemen We are Floating in Space (wooow… goose bumps!!!) to finally ended it with the chorus of Elvis' Can't Help Falling In Love……… incredible!!!!!!
Please, enjoy THAT song and the whole performance
No tenía ninguna expectativa con la presentación de Spiritualized, pero al verla poco a poco me fue impactando, era acogedora, acústica y gospel… hasta que llegó el momento en que cantó Anything More, una muy bonita versión que se volvió grandiosa cuando la une con Ladies & Gentlemen We are Floating in Space (en ese momento piel de gallina)…. pero luego se volvió magnánima cuando termina la canción incluyendo versos del Can't Help Falling in Love de Elvis, increible!!!!!!!!!!
Sólo por esos 8 minutos vale la pena disfrutar esta gran presentación.
Download concert in Zip:
Spiritualized - Live @ Coachella 2008
Setlist:
Sitting On Fire
Lord Let It Rain On Me
True Love Will Find You In The End
Amen
Going Down Slow
Spiritualized – Soul On Fire (Live @ Coachella 2008)
Walking With Jesus
Baby I'm Just a Fool
Spiritualized – Anything More & Ladies and Gentlemen (Live @ Coachella 2008)
Broken Heart
I Think I'm In Love
Oh Happy Day
[tags]coachella, spiritualized, coachella 2008[/tags]