DIE recommends | Fanfarlo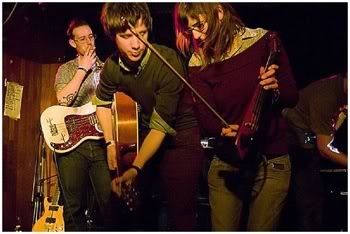 Thanks to SXSW I have been discovering a bunch of new bands, and one of those is FANFARLO.
They are a sextet from London that have been playing amazing sweet indie pop songs, we have to be careful with comparisons, but if you want to get an idea, this sounds like a Shout Out Louds – Arcade Fire – Neutral Milk Hotel – Clap Your Hands Say Yeah mix… (but not at the same time) which I like
With 4 EP right now, the last one entitled "Harold T. Wilkins" released this month, they are starting to have some kind of buzz around.. for that reason BBC loves them, Bowie loves them, I love them…. and you should love them too.
One of their greatest songs is Fire Escape, you'll be hooked by them immediately, also they have done a Black Cab Session and you can also enjoy a video from their Levi's/FADER SXSW performance.
This band should be releasing their album debut ASAP!!!!!………….. enjoy the MP3s.
Gracias al SXSW he descubierto una gran cantidad de nuevas bandas, y una de esas es FANFARLO.
Ellos son un sexteto de Londres que han estado tocando fascinante y "dulce" canciones indie pop… eso si, debemos tener cuidado con las comparaciones, pero si quieres tener una idea, esto suena como un mix de Shout Out Louds – Arcade Fire – Neutral Milk Hotel – Clap Your Hands Say Yeah (pero no al mismo tiempo)
Con 4 EPs lanzados, siendo el último "Harold T. Wilkins" ya han estado teniendo algo de notoriedad de boca en boca, por esa razón la BBC los quiere, Bowie los quiere, yo los quiero y tu deberías quererlos también.
Una de sus grandes canciones es Fire Escape, estarás enganchado inmediatamente (espero), la banda también realizó un episodio para la Black Cab Session y aquí puedes disfrutar un video de su presentación en el Levi's/FADER en SXSW.
Esta banda tiene que lanzar su debut YA!!!!…. disfruten los MP3s.
MP3s:
Fanfarlo – We Live By The Lake (Black Cab Sessions)
Fanfarlo – You are One of the Few Outsiders Who Really Understands Us (Live @ SXSW 2008)
Fanfarlo – Fire Escape
[tags]fanfarlo, fire scape[/tags]