Dengue Fever | Venus On Earth (2008)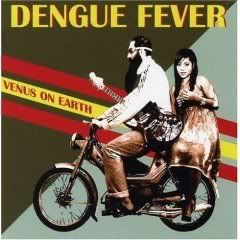 Cambodian psychedelic pop from the 70s or maybe from some Bollywood megaproduction.
The first time I listened them was on Weeds (fooled by the amazing riff of One Thousand Tears Of A Tarantula) and even though this band is so particular: guys from L.A, cambodian singer and lyrics in Khmer, I didn't pay attention to their music.
Despite of that, Venus on Earth (third album), released last month was a slap on the face. In fact their music is more common beyond what anyone might expect (you can define it "easy-listening" music with surf rock influences…. but cambodian). The album is very pleasant, giving you the chance to invest time on this style, although let's be honest, their bizarre (and effective) background is the driver that impulses you to get into this proposal.
Psicodelia pop camboyana salida de algún rincón de los 70s o de alguna megaproducción de Bollywood.
Primero los conocí gracias a Weeds (engañado por el fabuloso riff de One Thousand Tears Of A Tarantula) y a pesar de lo particular de la banda: chicos de L.A, cantante de Cambodia y canciones en Khmer, no le presté mucha atención.
Sin embargo, Venus on Earth (tercer álbum), lanzado el mes pasado fue una bofetada. En realidad su música es más común de lo que uno puede esperar (pudiéndose definir en un easy listening, con alguna que otra influencia surf rock…. pero camboyano). Disco bien bien agradable (a pesar de bajar el ritmo al final) que da cabida a querer descubrir más de este estilo aunque estamos claros que el background de la banda mercadea y hace que sea el principal motivo al adentrarse a esta propuesta.
MP3s:
Dengue Fever – Tiger Phone Card [alt link] <-- favorite song
Dengue Fever – Sober Driver [alt link]
(btw, Sesión Futura ya había comentado sobre ellos
)
[tags]dengue fever, venus on earth, review, tiger phone card[/tags]
One comment