Archive for
October, 2007
5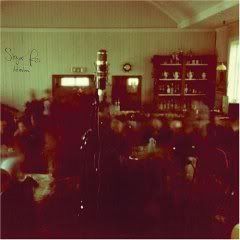 English Version:
Listening Sigur Rós is always an experience, I don't even imagine what would be to watch them in concert.
Anyway, I just listened the new double cd Hvarf/Heim, my opinion, it's the same stuff that we have listened before, but c'mon you can't have enough from Sigur Rós no matter if it sounds exactly the same in every new release.
IMHO, Hvarf/Heim is just an excuse to present "new" music from the band. In fact, it's just a "bonus" of the REAL release, that is, Heima DVD.
Hvarf/Heim has one cd of "original music" (just 5 tracks) and the other one is an acoustic performance (6 tracks)…. Is this worthy?….. Hell yes!!, once again these tracks give me the chills, FYI: Í Gær is just epic!!! and the live version of Vaka, priceless (at least for me :_D )
So, Hvarf/Heim is a good preview while we wait the DVD, the only thing I didn't like was that it wasn't necessary TWO cd's, come on: 11 tracks = double cd?? = Icelandic scam
MP3:
Sigur Rós – Vaka (Hvarf/Heim version)

Versión en Español:
Escuchar Sigur Rós es siempre una grata experiencia, no quiero ni pensar como sería ver la banda en concierto.
Con ello empiezo a relatar que acabo de terminar de escuchar el nuevo álbum doble de la banda titulado cd Hvarf/Heim, mi opinión, es la misma música a la que Sigur Rós nos tiene acostumbrados, no esperan nada nuevo… sin embargo creo que jamás podría cansarme de ellos no importa si la música es la misma en cada nueva producción.
A mi parecer, Hvarf/Heim es una excusa para tratar de presentar "nueva música", es más, en realidad esto representa un aperitivo del verdadero lanzamiento de la banda que es el DVD Heima.
Por qué digo que es una excusa?, bueno, un Cd de Hvarf/Heim contiene "disque música nueva" (pero son sólo 5 canciones) y el segundo cd son versiones acústicas (pero son sólo 6 canciones)… por lo que en realidad tenemos efectivamente 2 EP.
Vale la pena? Pues SI!!!, una vez más se me erizaba la piel al escuchar el disco… por cierto, Í Gær es simplemente épica y la versión en vivo de Vaka inigualable (al menos para mi :_D )
Por lo tanto, Hvarf/Heim es un buen "preview" de lo que vendrá en el DVD, lo único que reclamo es que no era necesario presentar Hvarf/Heim como álbum doble, por favor son 11 tracks… fraude islándico
MP3:
Sigur Rós – Vaka (Hvarf/Heim version)
[tags]sigur rós, hvarf, heim, heima[/tags]