Archive for
October, 2007
0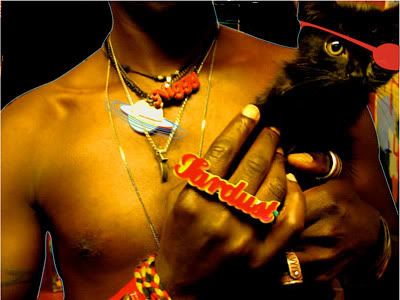 English Version:
If Trent Reznor supports a musician, you MUST FOLLOW and take seriously this artist, that's the case with: TV On The Radio, Death From Above 1979 among others.
This time, Saul Williams is the recent new kid sponsored by Trent Reznor, and this week, TR announced, "he" will "do a Radiohead" with upcoming Saul Williams album "The Rise And Inevitable Liberation of NiggyTardust!"
Ok, that's nice and I applaud they are following Radiohead's iniciative, but c'mon, even though TR's name is strong in the music industry, Saul Williams is in essence an unkown artist (and please, don't get me wrong).
What we really need "in this phase" of the game is that mainstream and powerful artists release by themselves their records. (I think that would be the case of Foo Fighters and Madonna (sort of) )
For this moment, Y34RZ3R0R3MIX3D will be released by Interscope Records (the last album if I'm not wrong).
So, Trent, I'll wait your next halo expecting that you'll "do a Radiohead" (and I'm confident you'll do it)… if that's the case it would have been worthy.
You don't know who Saul Williams is?
Check this:
[youtube]l1llNYAlYrc[/youtube]
via nin
via niggytardust

Versión en Español:
Si Trent Reznor apoya un músico, DEBES seguirle la pista a ese artista, ese es el caso de TV On The Radio, Death From Above 1979 entre otros.
Ahora, el nuevo de la lista es Saul Williams y esta semana, TR anunció, "él" "haría un Radiohead" a raíz del lanzamiento del álbum de SW titulado "The Rise And Inevitable Liberation of NiggyTardust!"

Ok, me parece buenísimo y aplaudo que se siga la iniciativa de Radiohead, pero venga, a pesar que el nombre de TR es poderoso en la industria musical, Saul Williams es en esencia un artista desconocido (y no me tomen a mal la opinión).
Lo que realmente necesitamos en "esta fase del juego" es que artistas mainstream y poderosos lancen sus propios discos sin intermediarios (y creo que ese será el caso de Foo Fighters y Madonna (en cierta forma) )
Por los momentos el Y34RZ3R0R3MIX3D si no me equivoco sera el último disco de NIN lanzado por Interscope Records.
Así que Trent, espero que en el próximo Halo "hagas un Radiohead" (y estoy seguro que lo harás), si ese es el caso, habrá valido la pena.
Que no conoces Saul Williams? Chequea esto:
[youtube]l1llNYAlYrc[/youtube]
via nin
via niggytardust
[tags]saul williams, trent reznor, nin, niggytardust[/tags]