Pascal Comelade – L'argot Du Bruit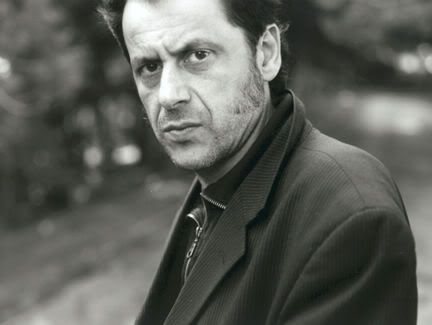 English Version:
For me it's very hard to find a Pascal Comelade album, I always get singles or collaborations with PJ Harvey, so, last week I got his "Detail Monochrome" and "L'argot Du Bruit". When I was importing the first one to iTunes, the song that played was "Chanson"…. I don't know what happened, maybe the biological clock is telling me something or perhaps some memories from my childhood came out… whatever.
The fact is that this was a special song; it begins with a "let-the-baby-sing" experiment until the first note ala Sigur Ros sounds, so beautiful.
MP3:
Pascal Comelade – Chanson
Well, that's it, I just wanted to share one of his albums, it seems that L'argot Du Bruit is one of his accessible, commercial, recognized works. So, I drop this album irresponsibly in this blog. Seriously, this is an amazing album, highly recommended.
LINK:
Pascal Comelade – L'argot Du Bruit
See, last post was about Britney, this time is Pascal Comelade, my mojo is back.

Versión en Español:
Una de las cosas imposibles para mi es encontrar material de Pascal Comelade que no sean "tracks sueltos" o colaboraciones con PJ Harvey, finalmente me encontré con su "Detail Monochrome" y al importar al iTunes la primera canción que sonó fue "Chanson", no se que pasó, tal vez el reloj biológico me esté diciendo algo o posiblemente me recuerde algo de mi infancia, pero tuve un "momento", la canción empezó como el típico experimento "dejemos al bebé cantar", pero que mezclado con una notas parecidas a Sigur Ros pase a convertirse en algo muy especial.
MP3:
Pascal Comelade – Chanson
En vista a lo difícil que es conseguir algo de Comelade, suelto irresponsablemente su disco más "accesible, reconocido, comercial, de masas": L'argot Du Bruit, en lo personal quedé así en todo el disco: :-O que maravailla de cd!!!
LINK:
Pascal Comelade – L'argot Du Bruit
Ya ven, les coloqué Britney anteriormente, pero los recompenso con esta gran joya musical.
[tags]pascal comelade, chanson, L'argot Du Bruit, Detail Monochrome, mp3[/tags]
5 comments