Archive for
June, 2007
3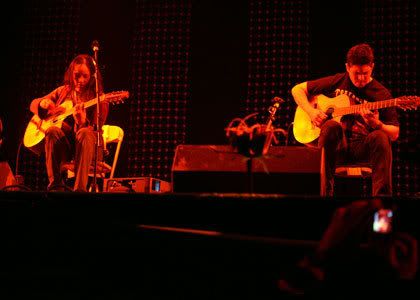 English Version:
Rodrigo y Gabriela: They don't sing, they just play guitars, so when they cover a song like Pink Floyd's "Wish You Were Here" the singers are the public.
I just can't imagine the excitement they have everytime they play this song in concert.
In my case, when I listen this version I have a non-stop 3-4 minutes of goose pimples.
I could extract the audio from the BBC Broadcast at Glastonbury 2007 of this song. Seriously, this performance was great, this week I'll upload the complete performance from Rodrigo & Gabriela.
Enjoy.
MP3:
Rodrigo & Gabriela – Wish You Were Here (Pink Floyd Cover | Live @ Glastonbury 2007)

Versión en Español:
Rodrigo y Gabriela: Ellos no cantan, sólo tocan guitarra, por lo que cuando interpretan una canción como el Wish You Were Here de Pink Floyd pues quien canta es el público.
No puedo imaginarme la buena vibra que deben sentir ellos cada vez que interpretan esta canción en concierto.
En mi caso, cuando escucho esta versión tengo una interminable sensación de piel de gallina por 3-4 minutos.
Pude extraer el audio del Broadcast de la BBC de Glastonbury 2007 de la canción. De verdad, esta presentación fue excelente, en esta semana subiré el set completo de Rodrigo & Gabriela.
Disfruten
MP3:
Rodrigo & Gabriela – Wish You Were Here (Pink Floyd Cover | Live @ Glastonbury 2007)
[tags]Rodrigo y Gabriela, wish you were here, pink floyd, Glastonbury 2007, cover[/tags]