Archive for
December, 2006
3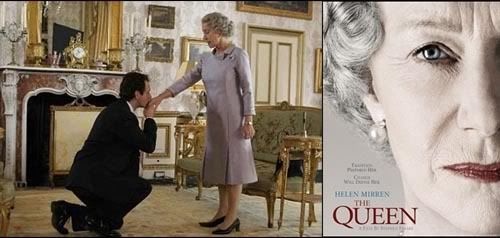 Español:
Para ir cerrando el ciclo 2006, he aquí las últimas películas que tenía preparado comentar.
The Queen
Alguien recuerda haber visto una película de la monarquía inglesa pero ambientada en la actualidad?, que yo sepa no hay, al menos no recuerdo ninguna. Esta excelente película que ya empezó por buen camino a lo que nominaciones vía al Oscar se refiere, trata de la relación profesional entre la Reina Isabel II y el recién nombrado Primer Ministro Tony Blair a partir de la muerte de la Princesa Diana en 1997.
La película plasma el contraste de una familia real caracterizada por su frialdad emotiva y de todo lo que tuvo que hacer la Reina para ajustarse a las circunstancias, siendo influenciada por el cambio que el pueblo inglés, liderizado por Tony Blair, abogaba por una monarquía más humana, a la par de los tiempos modernos, dejando atrás el protocolo.
The Queen logra de una manera muy sobria, elegante e íntima detallar el comportamiento "tras bastidores" de los personajes de la realeza, esta película no sobresale por su grandiosidad, ni por su fotografía, sino por su guión y las excelentes actuaciones de Michael Sheen y Helen Mirren quien se roba el show en personificar la actitud, modismos, estilo y esencia de la Reina en una interpretación que tiene desde ya asegurada el Oscar 2007 (esperemos que así sea).
Veredicto: Si bien puede que ciertas escenas o situaciones tiendan a caricaturizar en pantalla a los íconos de la realeza, o que el efecto Princesa Diana opaque gran parte de la trama, estamos en presencia de un excelente film, con un guión a la altura y una actuación de la Reina Isabel II de lujo, si no te convence este tipo de películas al menos debes ver la dramatización de Helen Mirren (que como dato curioso es la segunda vez en el año que hace de la Reina Isabel, una en TV por la que obtuvo un Emmy y ahora con esta película, además la actriz tuvo el privilegio de tomar el té con la Reina).
The Fountain
La esperé ansiosamente, mis expectativas estaban bien arriba y me di un guamazo…. Si bien tenía el switch pasado que esto era una película de ciencia ficción me dejó con un sabor amargo.
No me encontré con el Aronofsky que me estremeció con Pi y Requiem for a Dream.
En este caso, todo gira en torno a la búsqueda de la Fuente de la Eterna Juventud en una historia de amor ambientada en 3 épocas: el siglo XVI, la actualidad y siglo XXVI.
Creo que la idea de Darren con esta película es que tenga una onda metafórica existencialista que te haga cuestionar la vida y el hombre… pero noté forzada la idea de unir las 3 historias bajo una misma trama, sentí los cambios de tiempo complicados y sin sentido alguno. Sobresale visualmente, y su soundtrack si bien no es grandioso es un punto a su favor.
Veredicto: No te la recomiendo, pero si eres fan de Aronofsky claro que la tienes que ver para juzgar y seguirle la pista a su trabajo. En realidad no es mala la película, pero si he de ver a un tipo levitando en el espacio prefiero que sea Neo.
Slds
Yiyo
____________________________

English:
We're closing 2006 cycle, here's the review of the last movies I wanted to comment.
The Queen
Does anybody remember a movie of the Britain Monarchy ambiented in the modern times? I don't, actually I think there's not a movie until now. This excellent film has started to gain several nominations road to the Oscars. The movie is about the professional relationship of Queen Elizabeth II and the new Prime Minister Tony Blair in the days after Princess Diana's death in 1997.
The director wanted to show you the contrast between the Royal Family; characterized by its frailty with all the things that Queen Elizabeth II had to do in order to adjust herself to the circumstances, being influenced by the change that the Britain People, led by Tony Blair, demanded in order to get a Monarchy with heart, along with the modern times.
The Queen , in an elegant, sober and flawless way, details you the behavior "behind the scenes" of the Royal Family. The strong quality of the movie is not its photography but its script and the excellent performances of Michael Sheen and Helen Mirren who takes all the credits of the movie. Her interpretation of the style, essence and attitude of the Queen is an Oscar award in her hands.
Verdict: There are scenes o situations that tend to make fun of the personification in screen of the Royal members; also you can notice that Princess Diana issue could deviate the movie plot. Anyway, we're in front of a great film, with an excellent script and an outstanding performance of the Queen, if you don't like this kind of movies, at least you must watch Helen Mirren's interpretation. (FYI: the actress had the chance to drink tea with the Queen).
 The Fountain
I waited for this movie all the year, I had higher expectations about it, and at the end I'm mad. I knew this movie is Science Fiction but I didn't like it at all.
I haven't found the director who shocked me with Pi and Requiem for a Dream.
In this case, everything goes around the search of the Fountain of the Eternal life in a love story ambiented in 3 eras: century XVI, actual days, century XXVI.
I think the idea of Darren was to give us a reason to think about life and the man in a metaphoric and existentialistic way … but I get the feeling he tried too hard to get together the three stories in one and the temporal changes were a little bit complicated. Visually is great and the score music is good.
Verdict: I don't recommend it, but if you're a big Aronofsky fan you should watch it in order to follow his work. Actually, the movie isn't bad, but if I have to watch a man flying in the space I'd rather watch Neo from The Matrix.
Cheers
Yiyo