Archive for
September, 2006
6
**English**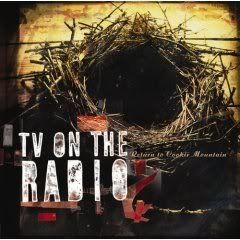 "I was a lover, before this war…" that's the first line from the best album of the year.. so far: TV On The Radio's Return to Cookie Mountain.
I must confess it was hard for me to get into this album…don't know why. I've been reading all the critics and reviews (btw, all great reviews) and I decided to "get it"… and it didn't surprise me at all.
But then, I gave it a second chance and woooww… what an excellent album, it's true all the things people say.. 2006 = the year of TV On The Radio.
Return to Cookie Mountain is the second album from this Brooklyn's band. Sponsored by David Bowie and Trent Reznor, TV on The Radio brings a new musical proposal, combining indie rock, trip-hop, african music, guitar riffs.. this shit sounds like NEW (never done before), ergo I can define their style….
[youtube]GUB1xSAAADk[/youtube] 
This album is highly recommended, special mention to:
I Was a Lover (love the drums and horn loops)
Wolf Like Me (first single full of energy)
Province (David Bowie cameo)
Playhouses (drums, drums, drums)
Let The Devil In (scream and drums… with one of my favorites lines: "so when the chariot arrives, you'd best enjoy the ride 'cause when we get to heaven's gate we're not getting inside")
It's silly to keep counting the tracks… just get the album… here's two of them:
TV On The Radio – I Was A Lover
TV On The Radio – Wolf Like Me
Slds
Yiyo
**Español**
"I was a lover, before this war"….. así abre el mejor álbum del año (hasta la fecha), hablo del Return to Cookie Mountain de TV On The Radio.
Debo recalcar que fue difícil entrarle al Cd de una…. no se la razón. Había estado leyendo reviews y críticas del álbum (por cierto, todas buenas) y decidí escucharlo… y no me sorprendió en lo absoluto.
Le dí una segunda oportunidad y woooow, que excelente álbum, es verdad lo que todos dicen que este año es el de TV On The Radio.
Return to Cookie Mountain es el segundo Cd de esta banda de Brooklyn. Apadrinados por David Bowie y Trent Reznor, esta banda trae una nueva propuesta musical, combinando indie, trip-hop, sonidos africanos, riffs de guitarras, jazz… esta broma de verdad suena a NUEVO, como si nunca se hubiese hecho algo así… por ello definir un estilo no tiene sentido.
[youtube]GUB1xSAAADk[/youtube] 
Altamente recomendado el álbum, mención especial a:
I Was a Lover (la batería y el loop es lo que destaca)
Wolf Like Me (el primer single, lleno de energía, buena carta de presentación)
Province (contando con un cameo de David Bowie)
Playhouses (batería, batería)
Let The Devil In (muchos gritos y baterías… con una de mis frases favoritas: "so when the chariot arrives, you'd best enjoy the ride
'cause when we get to heaven's gate we're not getting inside")
Es tonto seguir contando las canciones, consigue el álbum, mientras aquí 2 tracks:
TV On The Radio – I Was A Lover
TV On The Radio – Wolf Like Me
Slds
Yiyo